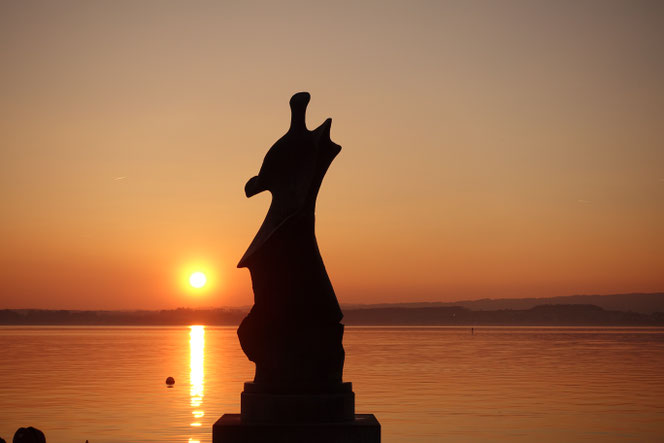 UNSERE PARTNER     OUR PARNTERS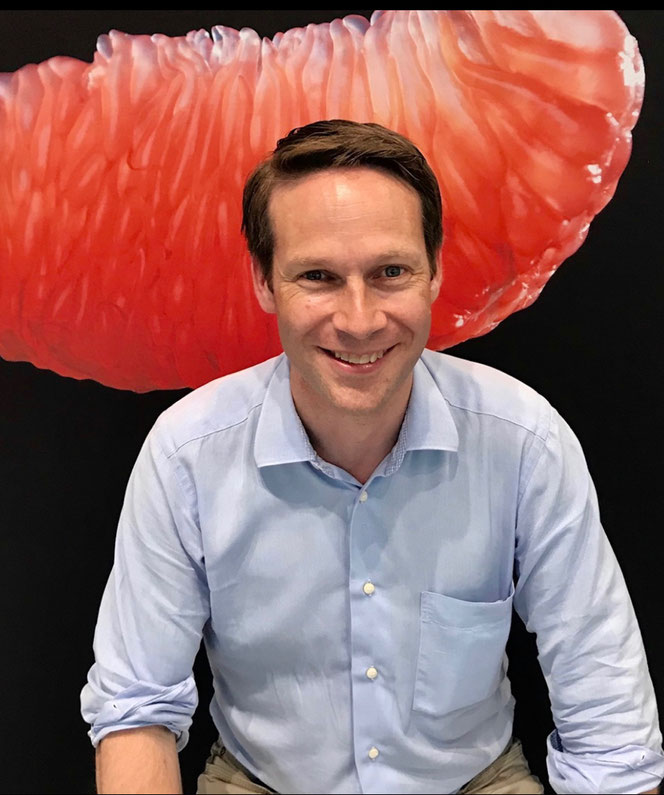 ETTER DISTILLERIE: 
Edel und fruchtig ins Glas.Gabriel Galliker und Familie Etter entlocken den Zuger Früchten magische Destillate. Dieses Jahr Jubiläum 150 Jahre.
ETTER DISTILLERIE

Noble and fruity in the glas.
Gabriel Galliker & the Etter family have been conjuring up magical fine brandies for 150 years
.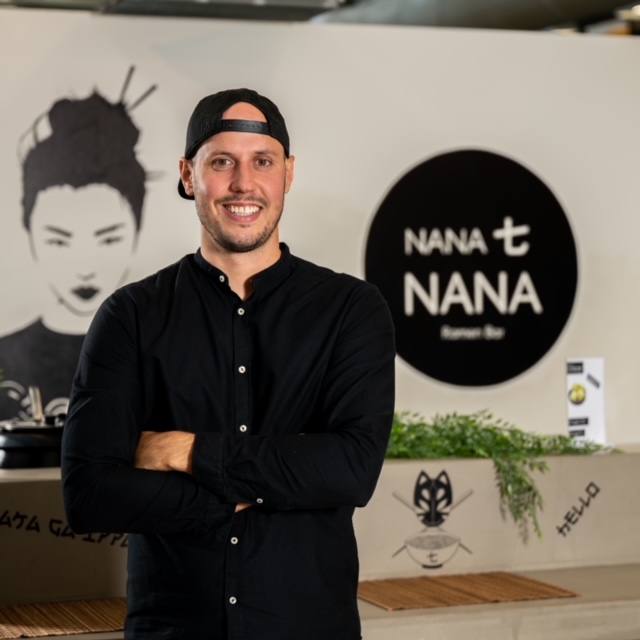 NANA-t-NANA RAMENBAR
Claudio bringt asiatische Exotik in unseren Gaumen. Im "Freiruum" entwickelt sich das junge gastronomische Zug weiter. 13 verschiedene Foodstände verführen mit Verlockeungen von  hier und "einmal um die Welt".
NANA-t-NANA RAMENBAR
Claudio brings Asian exoticism to our mouth. The young gastronomic wave continues to develop at trendy "Freiruum".13 different food stalls tempt us with highlights from here and around the world.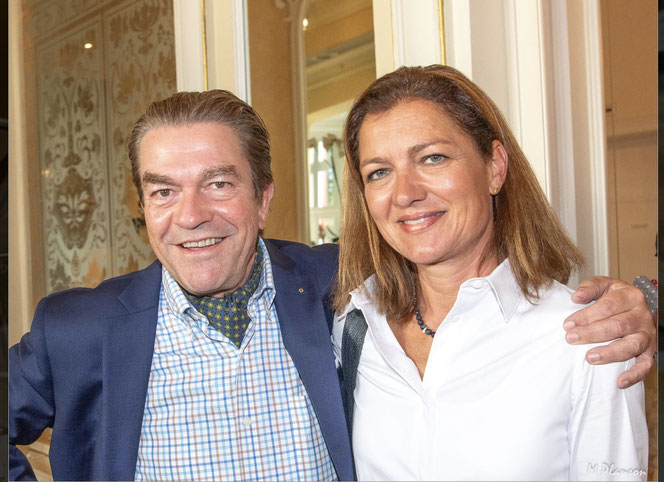 WEINGUT GIMENEN-OBERWIL

Renata Straub-Beerli und Ueli Straub hegen und pflegen den delicaten "Räuschling" und den "Pinot Noir" an den sonnigen Abhängen des Zugerberges.
Ein Wein aus der Stadt Zug: Eine Trouvaille.
WEINGUT GIMENEN-OBERWIL

Renata Straub-Beerli & Ueli Straub
cultivate and pamper the "Räuschling" and "Pinot Noir" grapes on the sunny slopes of the Gimmenen. Wine from the town of Zug, a Trouvaille. Weingut Gimenen-Oberwil.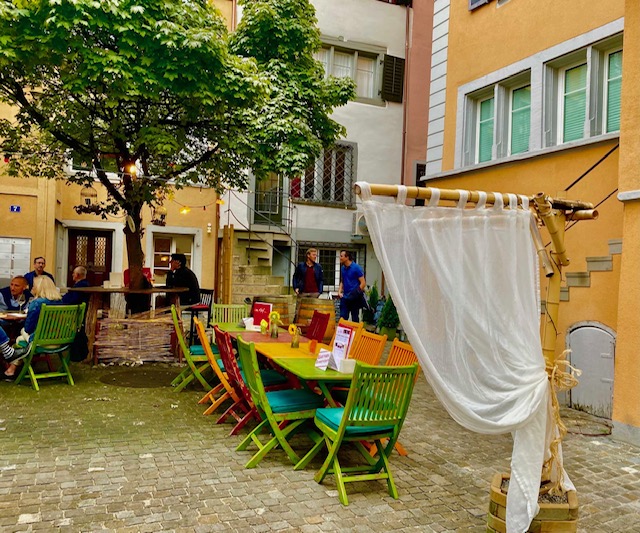 IM HOF
Pronto! In der romantischen Osteria "IM HOF".
Südländisches Temperament im lauschigen versteckten Innenhof.
 Vino Rosso und Italianità
IM HOF
Pronto! In the romantic Osteria "IM HOF".
Southern temperament in the secluded hidden countyard.
Fiery wine  and italien cuisine.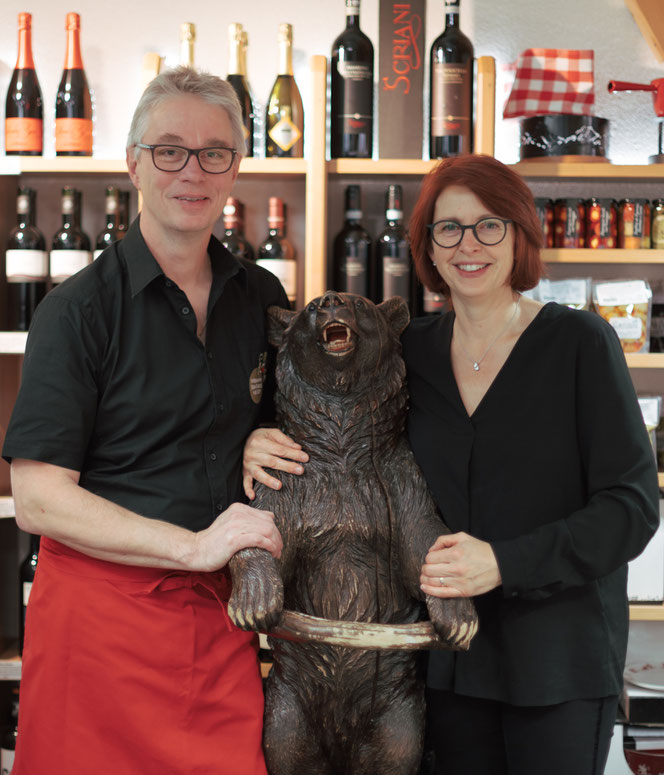 KÄSE DUBACH 
Gourmets kennen die beste Adresse in Zug für Käse und und ausgewählte Delikatessen aus der Region. Alfons Dubach lebt seine Produkte mit Passion. 30 Raclette-Käsesorten, die beliebten Fonduesorten sind auch online erhältlich. 
KÄSE DUBACH

Gourmets know the best address in Zug for Chese and selected delis from the region
Alfons Dubach is celebrating his passion. 30 varieties of raclette-cheese. The popular fondue varieties are also avaiable online.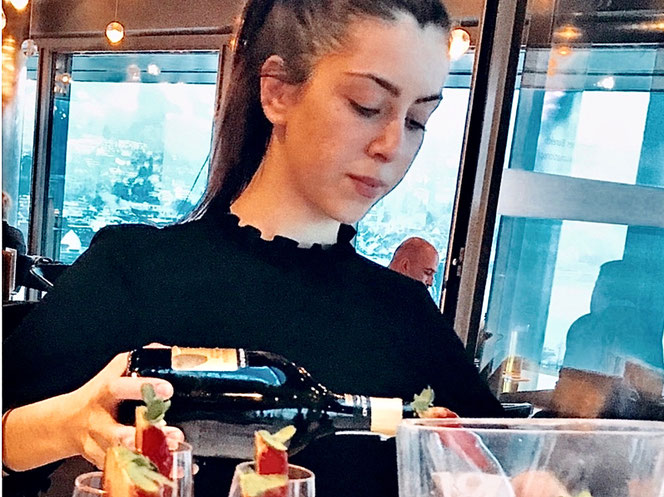 SKYLOUNGE

Das "SKYLOUNGE" Team im 18. Stock bereitet alles vor für einen fulminanten Start mit Wouww -Aussicht.
SKYLOUNGE

The "SKYLOUNGE" Team awaits  you at 18 th floor  with a brilliant opening and stunning view.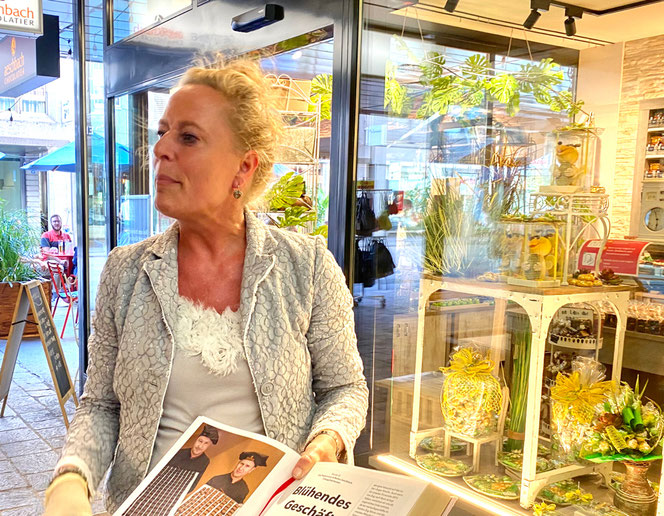 AESCHBACH CHOCOLATIER 
Schlaraffia in Chocolate Aeschbach-Wunderland, wo alle Zuckerherzen schmelzen.
AESCBACH CHOCOLATIER
Schlaraffia in Chocolate-Wonderland
At AESCHBACH CHOCOLADIER the sugar hearts melt.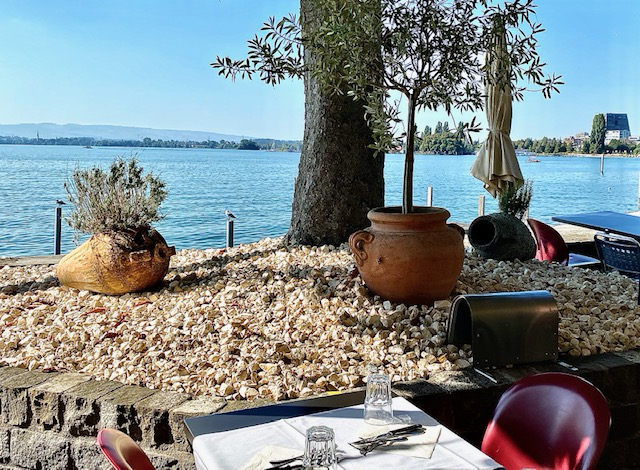 SAN MARCO
Schöner geht Zuger Sonnenuntergang nicht.
Antonino & Team  verwöhnen mit den ultimativen Wellenblick.
SAN MARCO
Sunsets of Zug are worldclass. Antonino & and San Marco team spoil you with fantastic wave view.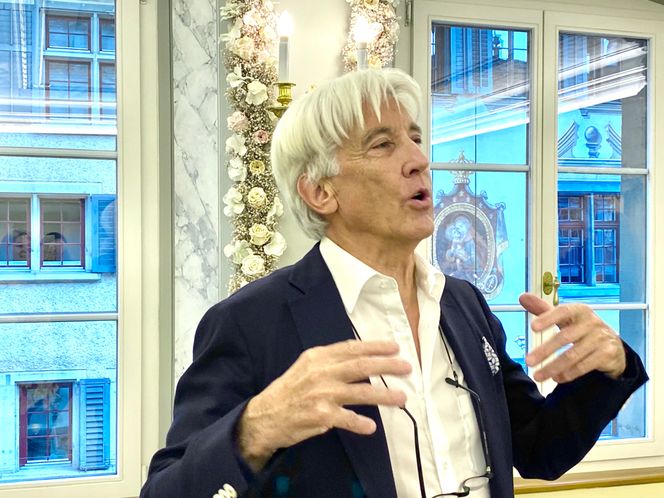 LOHRI-HAUS: 
Franz, Eva, Bianca und Franco Lohri.
Ein Cresendo für die Welt der Edelsteine und der güldenen Schätze. Es funkelt geheimnisvoll im ältesten Goldschiedehaus der Welt
LOHRI-HAUS: 
Franz, Eva, Bianca & Franco Lohri:
A crecendo for the world of gemstones. Dizzeling shines it in the oldest goldsmith's house in the world.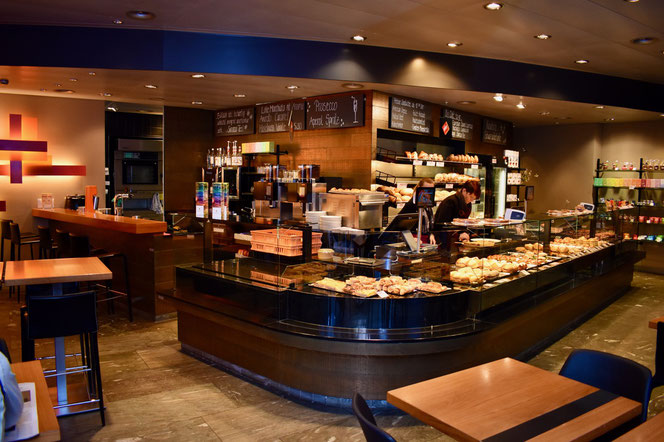 BECK-BOSSARD: 
André Bossard verführt nicht nur mit hausgemachten Bäckerei-Produkten und Take-Away Schlemmereien, sondern führt seine Betriebe nach ökologischen Grundsätzen. Gegen Food-Waste und für umweltgerechte Verpackungen.
BECK-BOSSARD: 
André Bossard not only seduces with homemade backery products and healthy take away, but runs his business according to ecolocical principles. Against food waste and in favour of environmentally friendly packaging.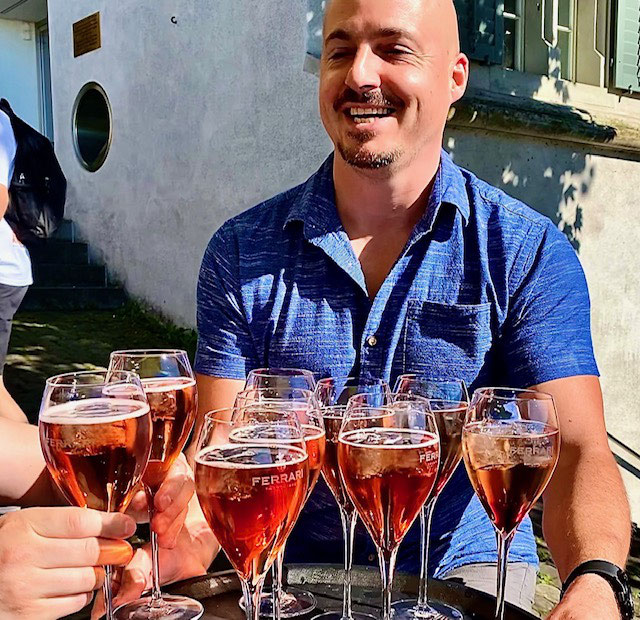 FISCHERSTUBE

In der FISCHERSTUBE wartet Gin-tastisches aus Zug. André Bliggensdorfer hat die Bar mit dem ältesten  Gewölbe der Stadt Zug wieder zum Leben erweckt.
FISCHERSTUBE
You will feel GIN-tastic at FISCHERSTUBE, where André Bliggensdorfer revived the trendy bar with the oldest vault in town.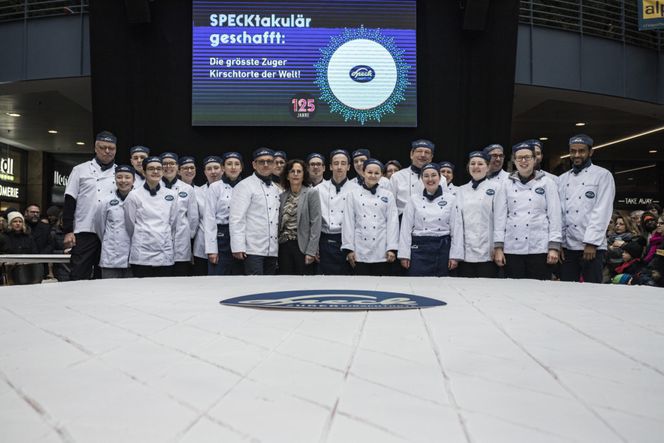 CONFISERIE SPECK

SPECK-takulär. Das Traditionsunternehmen ist seit 125 Jahren innovativ unterwegs. Im Pfauenbistro am Kolinplatz entdecken wir nicht nur Süsses!
CONFISERIE SPECK

SPECK-takulär! The traditional company has been innovatiing  for 125 years. In the Pfauen Bistro we descover with Walter Speck not only Sweets.
MISS MIU
Asia Food-Lovers wissen es schon längst. Koreas Küche ist ein genüssliches Up Grade der Kulinarik  des fernen Ostens. Das MISS MIU im Metalli Center entzückt mit bühnenreifem Ambiente im Zirkusstil und die Speisekarte lässt den Gaumen vibrieren. Und übrigens: MISS MIU gab es wirklich. Entdecke ihre Passion für Burlesque und Crazzyness. Verzehrst Du dazu ein Angry Chicken?
MISS MIU 
Asia food lovers have known it for a long time. Korea's cuisine is a delightful up gradation of the culinary arts of the Far East. MISS MIU in the Metalli Center delights with its stage-ready, circus-style ambience, and the menu makes the palate vibrate. And by the way: MISS MIU really existed. Discover her passion for burlesque and crazziness. Do you eat an Angry Chicken with it?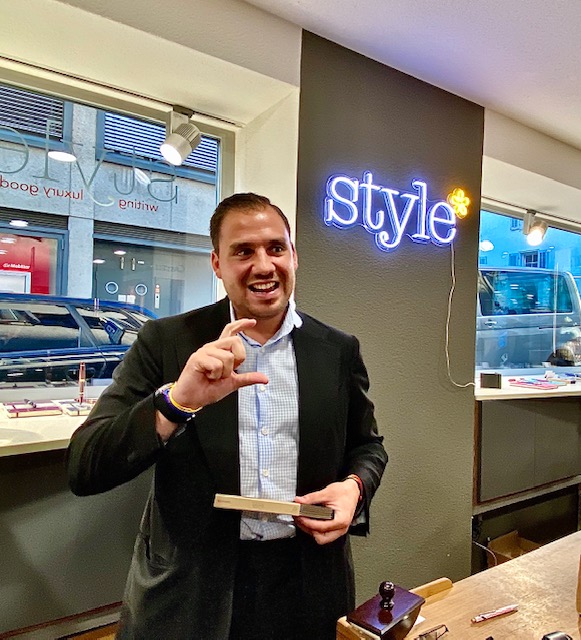 STYLE OF ZUG
Die Zelebration des Momentes. "STYLE OF ZUG" der familie NALDI an der Zeughausgasse steht für Zuger Design: Edelberg und Amacord. Herzklopfen ist angesagt, wenn wir einen Blick auf die exklusivsten Schreibgeräte der Welt werfen dürfen. 

STYLE OF ZUG
The celebration of the moment.
In the "STYLE OF ZUG" shop, the NALDI family stands for design from the canton of Zug: Edelberg and Amacord. The collection of the globe's most exclusive writing instruments also makes the heart beat faster.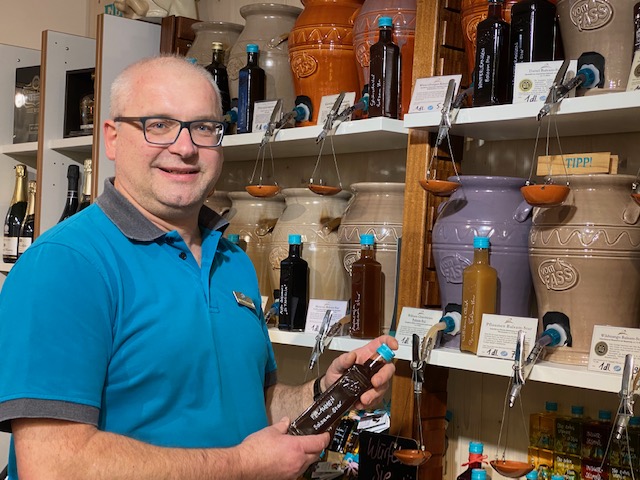 VOM FASS
Olivenöl, und anderes Edel-Liquides in all seinen Nuancen ist die Passion von Ekkert Philipp. Im "VOM FASS" kommen wahre Gourmets ins Schwärmen. Unendlich die Auswahl an Essigen, Ölen und Destillaten von hoher Qualität mit dem "etwas Besonderen Touch".
VOM FASS
Olive oil, and other noble liquids are Ekkert's passion. In "VOM FASS" true gourmets go into raptures. The selection of high qualitiy products as oils, vinegars & more seems endless.
GNUSS BUUR
Daniela Hadorn ist das Herz von "Gnuss Buur". Im schwierigen Jahr 2020 hat sie den Start gewagt. Herrlich zu erleben. Die Frische, die Nähe und die Kreativität unserer lokalen Lieferanten aus Zug und Region begeistern. Fleisch, Fisch, Eingemachtes und vieles mehr. Die Qual der Wahl für ein ZUGER MÖHLI.
GNUSS BUUR
Danielas heart beats for "Gnuss Buur". In the demanding year 2020 she dared to start a  market store offering a wide rage of products from our local farmers. Fresh vegetables, meat, fish and a lot of creative delights inspire us.
MEATING
Meet at the "Meating".
Ramon Nietlisbach & Team sind Zugs "Affineur de viande". Best gelagerte Stücke küssen die Grillglut.
Sparrips sind die Hausspezialität. Liebevoll während Stunden geköchelt. Butterzart.
MEATING
Meet at the "Meating". 
In Zug Ramon Nietlisbach and team are known as "Affineur de Viande". Best aged pieces kiss the embers.
Steak your world!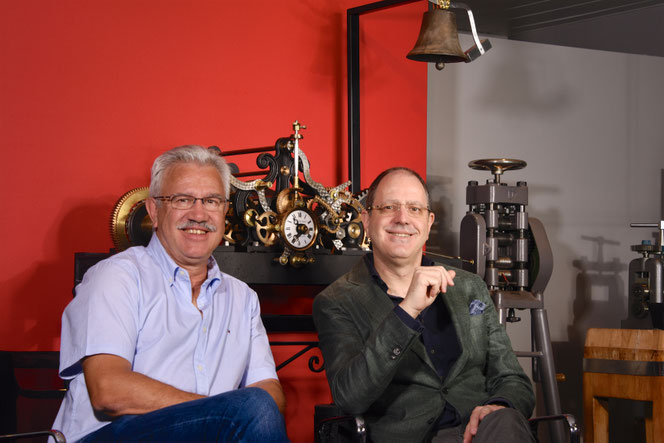 KOBLER  ZUG
Seit 1996 leben Bruno und Andreas Kobler für Ihre Passion: Alte Uhren und Edelsteine.
Die hauseigene Werkstatt hat ein neues Zuhause an der zentral gelegnen Rigistrasse 4 gefunden. In ihren Räumen lasst es sich in die Faszination der Zeitmessung und der Schmuckmanufaktur eintauchen.
KOBLER  ZUG
Since 1996 Bruno and Andreas Kobler have lived for their passion: Old watches and precious stones. The in-house open workshop has recently found a new home at the centrally located Rigistrasse 4 in Zug. In these new rooms you can immerse yourself in the wold of nostalgic timekeeping and jewellery manufacture.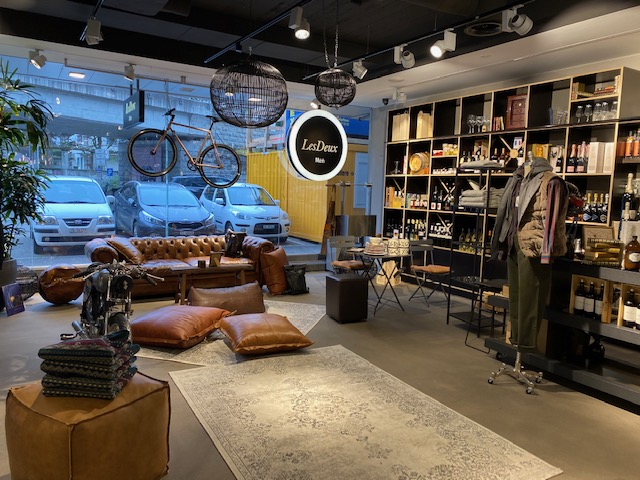 LES DEUX MEN
Es hat sich bereits herumgesprochen. Shopping der Zukunft bietet das LES DEUX. Der zeitgemässe Mann findet hier bei Silvio Bischof und Team seinen Stil. Bekannte Marken gewanden von Kopf bis Fuss in einem hippen Ambiente, das neben Mode auch eine Wine&more Bar bietet und Barrista-Künste zum Besten gibt, oder Lust auf einen Haarschnitt oder ein Kosmetik-Treatment vor Ort?
Und....falls die aktuellen Accessoires gefallen (von Möbel bis Bikes), ungeniert fragen.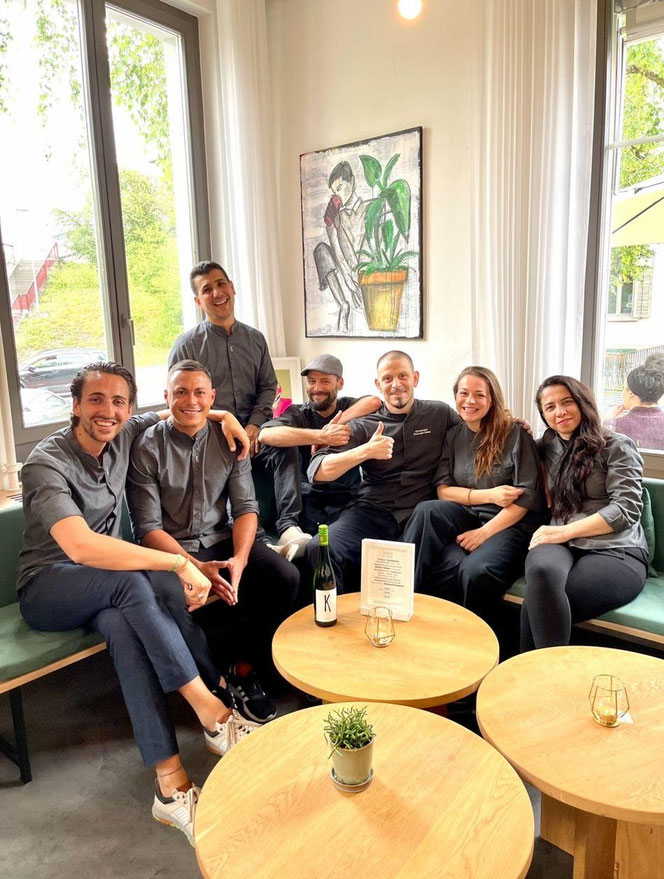 KURIOZ
Der Name ist Programm. Im "Kurioz",  wenige Schritte vom Bahnhof entfernt, dürfen wir unserer Neugier freien Lauf lassen. Geschäftsführer Nicolas sorgt hier mir seinem Team für Abwechslung. Das Thema der Küche wechselt alle drei Wochen. Dauerspeisekarte war gestern. Also keine Langeweile für Geniesser, die bereit für immer wieder neue Entdeckungen sind.
KURIOZ
The name says it all. At KURIOZ, a few steps away from the mainstation, we are allowed to let our curiosity free. Nicolas, the manager, ensures together with his team variety and the theme of the cuisine changes every three weeks. A permanent menu was yesterday. So no boredom for connoisseurs who are always readyfor new discoveries.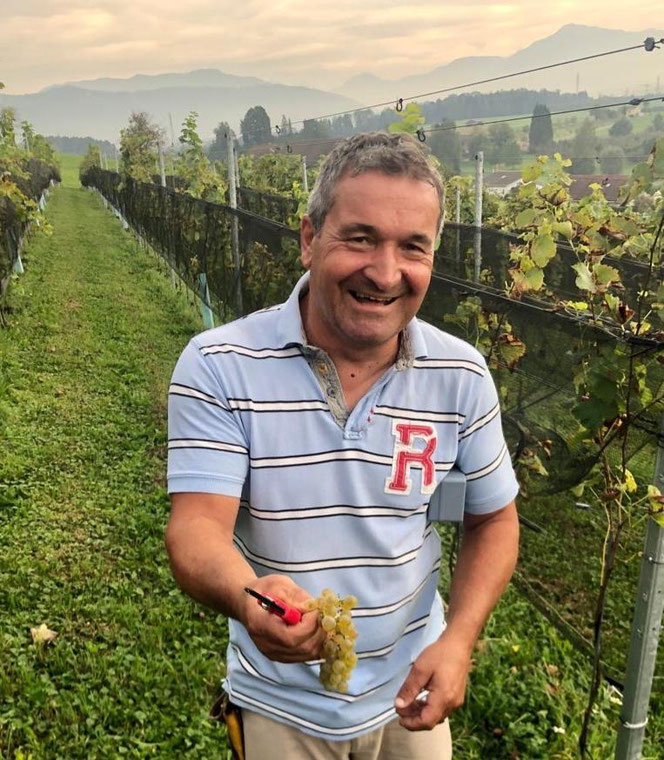 REBBERG NIEDERWIL-CHAM
Roman und Sandra Fuchs pflegen und hegen in Niederwil bei Cham ihre 20-jährigen Weinstöcke. Die 2500 Rebstöcke wachsen auf historischer Erde. Die Pflanzparzellen wurden in alten Urkunden als "Rebgärtli" und "Wyhalte" bezeichnet. Die neuen Traubensorten "Solaris" und "Johanniter" werden nach Bio Suisse-Standard gezogen und versprechen mineralisch-frischen Genuss.
VINEYARD NIEDERWIL-CHAM
Roman and Sandra Fuchs tend and cherish their 20-year-old vines in Niederwil near Cham. 2500 vines grow on historic soil. the planting pots were called "Rebgärtli" and "Wyhalte" in old documents.the new grape varieties "Solaris" and "Johanniter" are grown according to the bio-swiss-standard and provide fresh mineral enjoyment.
OLIVE & OREGANO
Kalimera! Guten Tag. Sehnsucht nach den griechischen Inseln? Mykonos und Co. erwarten Dich gleich um die Ecke. Im OLIVE & OREGANO werden die ersehnten Köstlichkeiten noch alle selber zubereitet und das schmeckt den Gästen. Den Sonnenuntergang gleich am Landsgmeindeplatz können wir Zuger auch bereitstellen. Wenn Oscar Merz noch den griechischen Wein in die Gläser füllt, sind wir im Syrtakimodus.
OLIVE & OREGANO
Kalimera! Hello. Longing for the Greek islands? Mykonos and Co. are just around the corner. At OLIVE & OREGANO, the longed-for delicacies are all prepared by the chefs themselves, and the guests love it. We Zugers can also provide the sunset right on Landsgmeindeplatz. When Oscar Merz fills the glasses with Greek wine, we are in Syrtaki mode.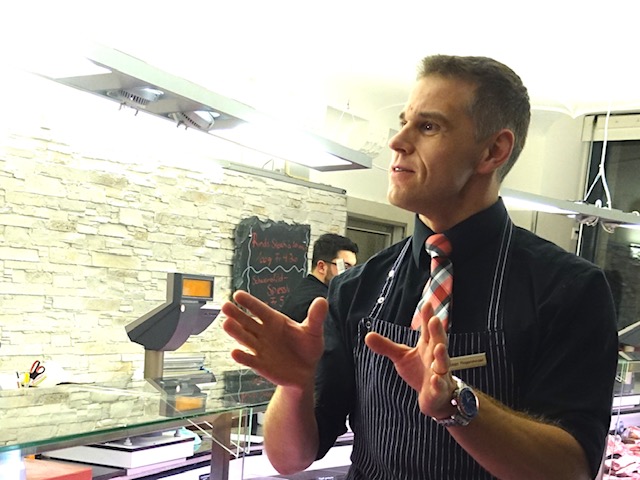 METZGEREI  ROGENMOSER 
pflegt die lokalen Traditionen. Christoph Rogenmoser produziert exklusiv die Zuger Chriesiwurst in verschiedenen Varianten.
METZGEREI ROGENMOSER
cultivates local traditions. Christoph Rogenmoser produces exclusively the "Cherry-Sausage".