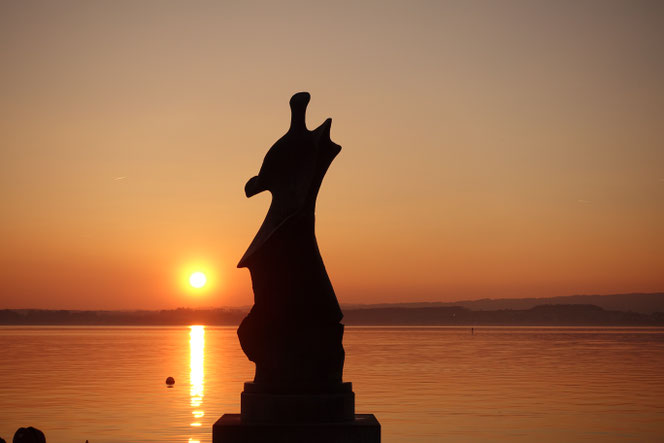 UNSERE PARTNER     OUR PARNTERS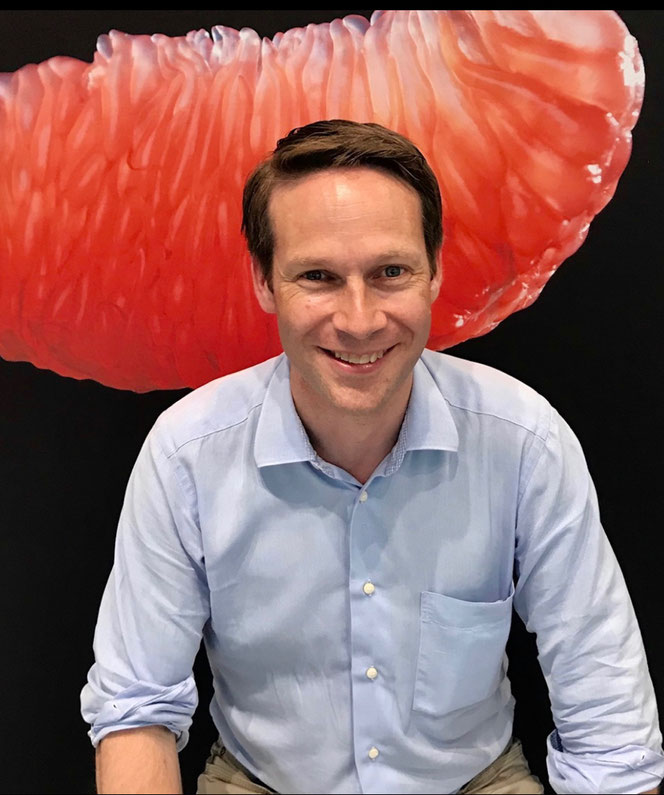 ETTER DISTILLERIE: 
Edel und fruchtig ins Glas.Gabriel Galliker und Familie Etter entlocken den Zuger Früchten magische Destillate. Dieses Jahr Jubiläum 150 Jahre.
ETTER DISTILLERIE

Noble and fruity in the glas.
Gabriel Galliker & the Etter family have been conjuring up magical fine brandies for 150 years
.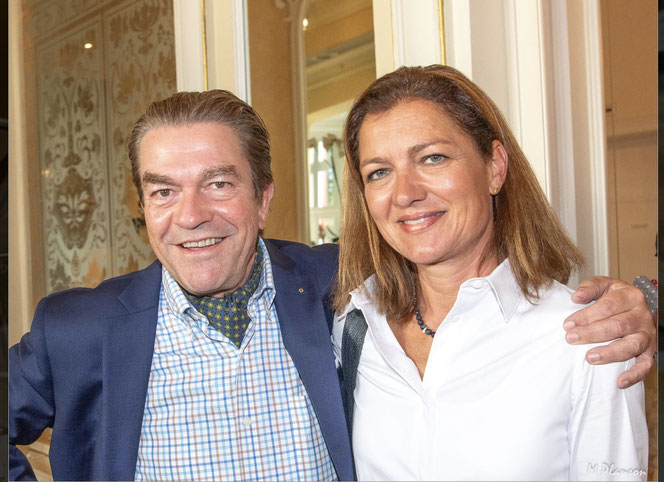 WEINGUT GIMENEN-OBERWIL

Renata Straub-Beerli und Ueli Straub hegen und pflegen den delicaten "Räuschling" und den "Pinot Noir" an den sonnigen Abhängen des Zugerberges.
Ein Wein aus der Stadt Zug: Eine Trouvaille.
WEINGUT GIMENEN-OBERWIL

Renata Straub-Beerli & Ueli Straub
cultivate and pamper the "Räuschling" and "Pinot Noir" grapes on the sunny slopes of the Gimmenen. Wine from the town of Zug, a Trouvaille. Weingut Gimenen-Oberwil.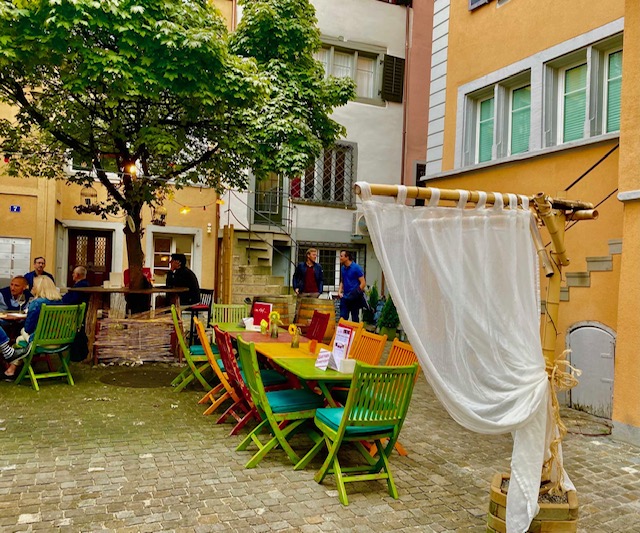 IM HOF

Pronto! In der romantischen Osteria "IM HOF".
versprüht Tanja südländisches Temperament
 Vino Rosso und Tagliata.
IM HOF
Pronto! In the romantic Osteria "IM HOF"
Tanja radiates southern temperament.
Italien fiery wine  and antipasto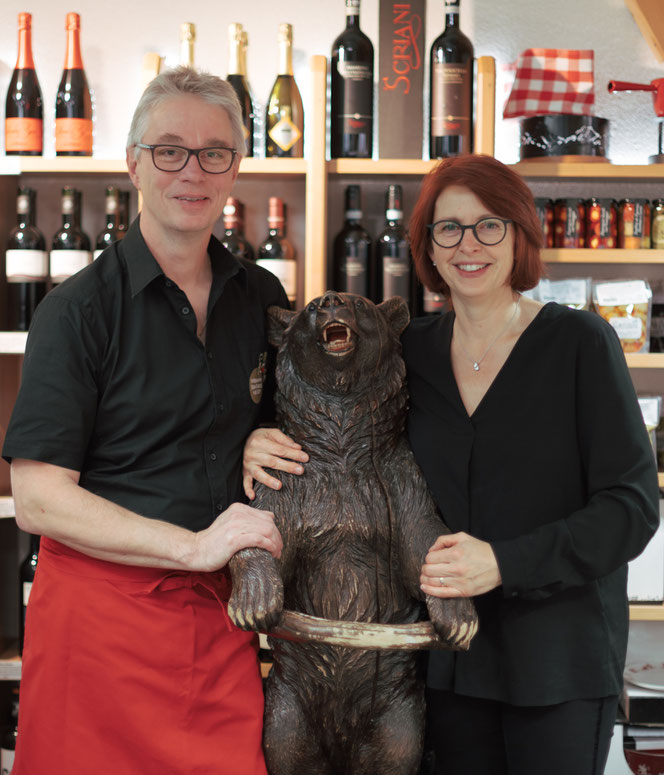 KÄSE DUBACH 
Gourmets kennen die beste Adresse in Zug für Käse und und ausgewählte Delikatessen aus der Region. Alfons Dubach lebt seine Produkte mit Passion. 30 Raclette-Käsesorten, die beliebten Fonduesorten sind auch online erhältlich. 
KÄSE DUBACH

Gourmets know the best address in Zug for Chese and selected delis from the region
Alfons Dubach is celebrating his passion. 30 varieties of raclette-cheese. The popular fondue varieties are also avaiable online.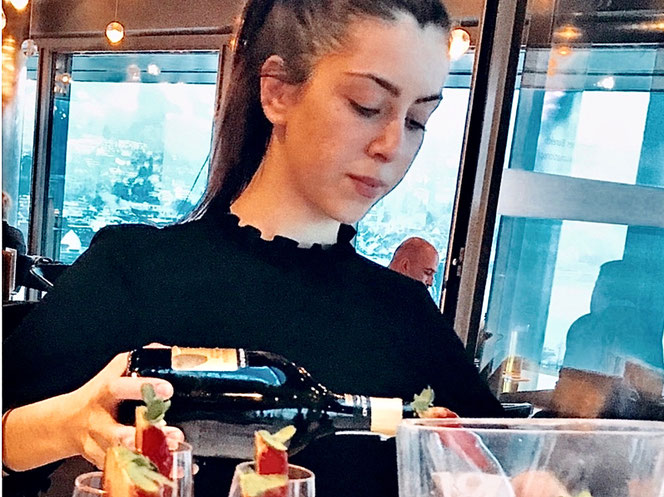 SKYLOUNGE

Das "SKYLOUNGE" Team im 18. Stock bereitet alles vor für einen fulminanten Start mit Wouww -Aussicht.
SKYLOUNGE

The "SKYLOUNGE" Team awaits  you at 18 th floor  with a brilliant opening and stunning view.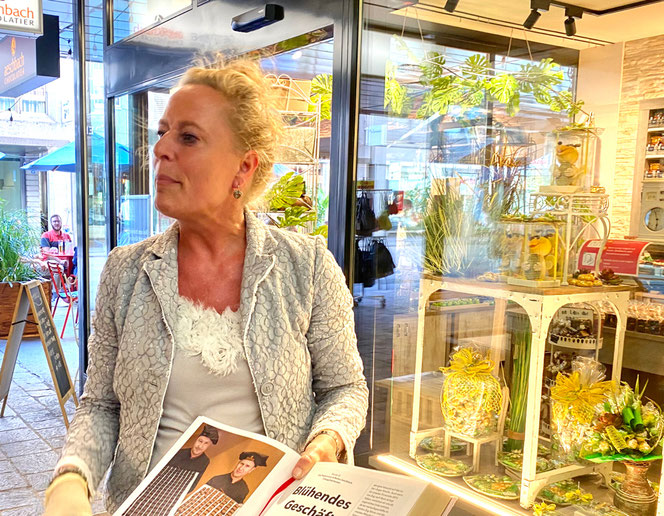 AESCHBACH CHOCOLATIER 
Schlaraffia in Chocolate Aeschbach-Wunderland, wo alle Zuckerherzen schmelzen.
AESCBACH CHOCOLATIER
Schlaraffia in Chocolate-Wonderland
At AESCHBACH CHOCOLADIER the sugar hearts melt.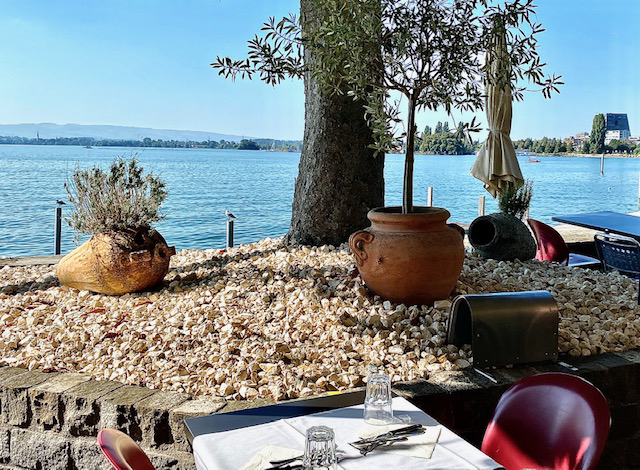 SAN MARCO
Schöner geht Zuger Sonnenuntergang nicht.
Massimo & Anna & Team  verwöhnen mit den ultimativen Wellenblick.
SAN MARCO
Sunsets of Zug are worldclass. Massimo & Anna & and San Marco team spoil you with fantastic wave view.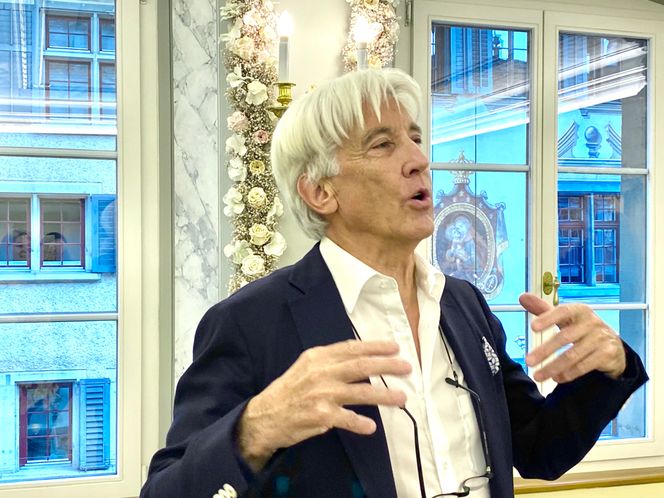 LOHRI-HAUS: 
Franz, Eva, Bianca und Franco Lohri.
Ein Cresendo für die Welt der Edelsteine und der güldenen Schätze. Es funkelt geheimnisvoll im ältesten Goldschiedehaus der Welt
LOHRI-HAUS: 
Franz, Eva, Bianca & Franco Lohri:
A crecendo for the world of gemstones. Dizzeling shines it in the oldest goldsmith's house in the world.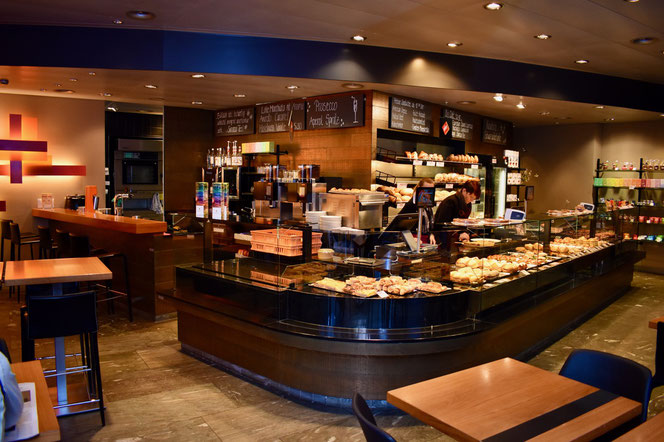 BECK-BOSSARD: 
André Bossard verführt nicht nur mit hausgemachten Bäckerei-Produkten und Take-Away Schlemmereien, sondern führt seine Betriebe nach ökologischen Grundsätzen. Gegen Food-Waste und für umweltgerechte Verpackungen.
BECK-BOSSARD: 
André Bossard not only seduces with homemade backery products and healthy take away, but runs his business according to ecolocical principles. Against food waste and in favour of environmentally friendly packaging.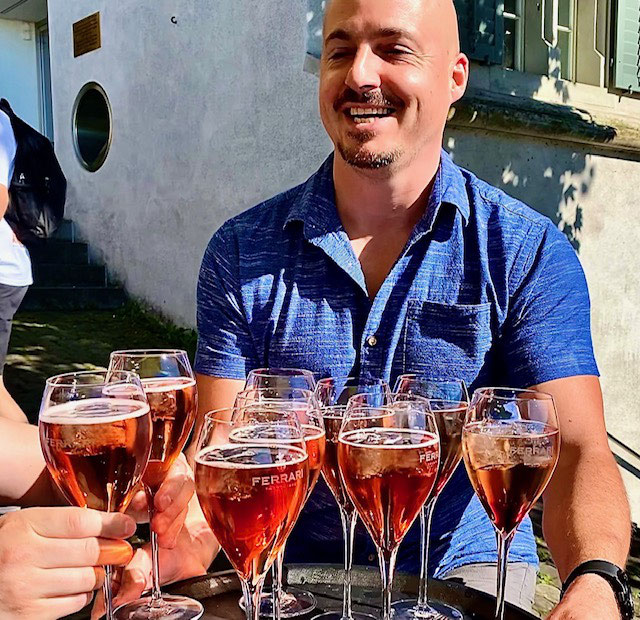 FISCHERSTUBE

In der FISCHERSTUBE wartet Gin-tastisches aus Zug. André Bliggensdorfer hat die Bar mit dem ältesten  Gewölbe der Stadt Zug wieder zum Leben erweckt.
FISCHERSTUBE
You will feel GIN-tastic at FISCHERSTUBE, where André Bliggensdorfer revived the trendy bar with the oldest vault in town.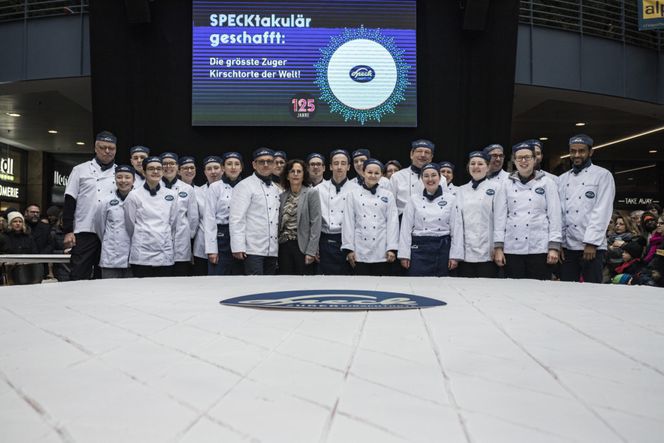 CONFISERIE SPECK

SPECK-takulär. Das Traditionsunternehmen ist seit 125 Jahren innovativ unterwegs. Im Pfauenbistro am Kolinplatz entdecken wir nicht nur Süsses!
CONFISERIE SPECK

SPECK-takulär! The traditional company has been innovatiing  for 125 years. In the Pfauen Bistro we descover with Walter Speck not only Sweets.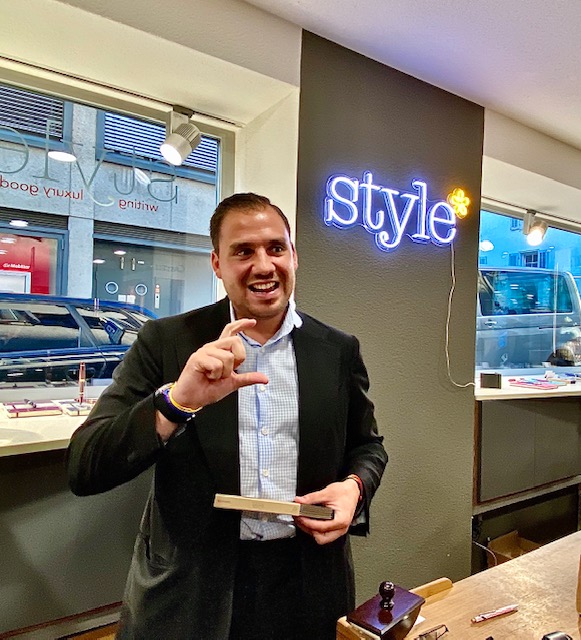 STYLE OF ZUG
Die Zelebration des Momentes. "STYLE OF ZUG" der familie NALDI an der Zeughausgasse steht für Zuger Design: Edelberg und Amacord. Herzklopfen ist angesagt, wenn wir einen Blick auf die exklusivsten Schreibgeräte der Welt werfen dürfen. 

STYLE OF ZUG
The celebration of the moment.
In the "STYLE OF ZUG" shop, the NALDI family stands for design from the canton of Zug: Edelberg and Amacord. The collection of the globe's most exclusive writing instruments also makes the heart beat faster.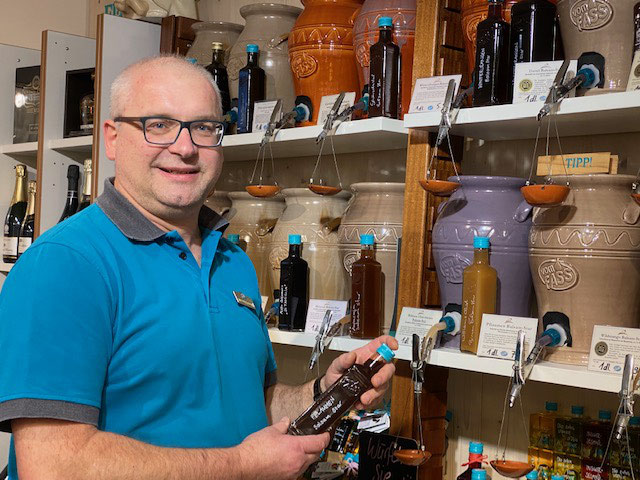 VOM FASS
Olivenöl und anderes Edel-Liquides in all seinen Nuancen ist die Passion von Eggert Philipp. Im "VOM FASS" kommen wahre Gourmets ins Schwärmen. Unendlich die Auswahl an Essigen, Ölen und Destillaten von hoher Qualität mit dem "etwas Besonderen Touch".
VOM FASS

Olive oil and other noble liquids are Eggert's passion. In "VOM FASS" true gourmets go into raptures. The selection of high qualitiy products as oils, vinegars & more seems endless.
CAFÉ GLÜCKLICH

Fortuna lebt im CAFÉ GLÜCKLICH". Alvaro, der Meistermixer hat flüssige Überraschung bereit.
Gerührt und geschüttelt!
CAFÉ GLÜCKLICH
Fortuna lives in the "CAFÉ GLÜCKLICH"
Alvaro the master mixer. His drinks: Shaken and stirred.
MEATING
Meet at the "MEATING".

Andràs und Team sind Zugs "Affineur de viande".
Best gelagerte Stücke küssen die Grillglut.
Steak your World!
MEATING

Meet at the "MEATING"
In Zug, Andràs and Team, are the "Affineur de Viande".
Best aged pieces kiss the embers.
Steak your world!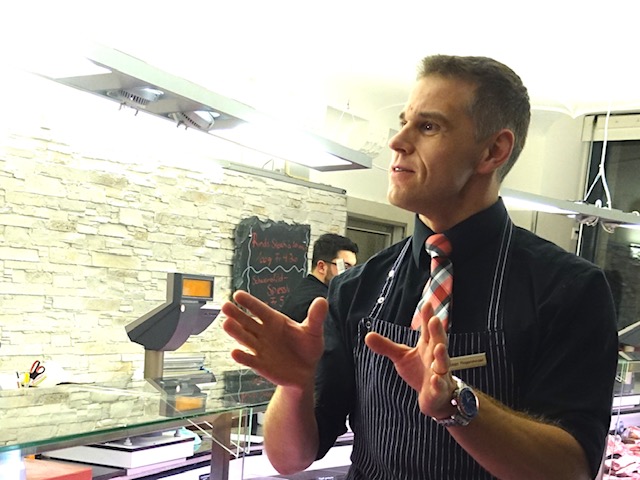 METZGEREI  ROGENMOSER 
pflegt die lokalen Traditionen. Christoph Rogenmoser produziert exklusiv die Zuger Chriesiwurst in verschiedenen Varianten.
METZGEREI ROGENMOSER
cultivates local traditions. Christoph Rogenmoser produces exclusively the "Cherry-Sausage".